Day 2: Common Ground, Yeuido Hangang Park, Cheonggyecheon Stream, Gwanghwamun Square and Gate, Insadong
Welcome to Day 2 of our trip!
This was probably one of our most tiring days as we did plenty of walking. It's funny, because much to his annoyance, Ralph was constantly being pushed to go on a hike this trip. On Day 2 we did just that - we walked through central Seoul without relying on public transport and survived it with our calves stronger than ever. On this day we visited:
Common Ground

Yeuido Hangang Park

Cheonggyecheon Stream

Gwanghwamun Square and Gate

Insadong
Common Ground
Our first destination was the much-recommended shopping pop-up concept store, Common Ground. Common Ground features an array of youth culture and sub-culture clothing from local Korean designers, as well as trendy little cafes and restaurants.
After breaking the bank buying clothes at the various stores, we spent the majority of our time doing the one thing most people come here to do - take pictures for the 'Gram! Sorry to basic, but that's just how we roll sometimes you feel?
Common Ground is comprised of 200 giant blue shipping containers and attracts many visitors daily. The pop-up shopping complex is located near a university and so naturally, many university students flock in groups to take pictures by the containers.
Tip: If you're keen to take pictures by the blue containers, come early in the morning because we found that the longer we stayed there, the more that young Koreans arrived in hoards to take snaps.
Transport: Alight at Konkuk University Station (Seoul Subway Line 2 or 7), take Exit 6. Walk straight for 250m to arrive at Common Ground.
Here's where Day 2 started to get frustrating. We had seen the famous 'I Seoul U' sign on Instagram and tossed up whether to pay a visit. Usually, Yeuido Hangang Park would have been the perfect place to have nice stroll along the Hangang River. However, on the day we went, it was raining on and off and very overcast.
Against our better judgment, we decided to make the trip to the park. Little did we know that it would take one and a half hours!! A series of wrong turns, wrong train stops and Google Maps not fully functioning (ugh...seriously) killed our time, but we finally made it to the park.
Once there, we made the best of a relatively dreary-looking park. The Seoul sign was still impressive enough even with such overcast weather, and the view overlooking city skycrapers was nice. The Yeuido area is the finance district of Seoul and is where businessmen and women make that dough.
Transport: Alight at Yeouinaru Station (Seoul Subway Line 5), take Exit 2 or 3.
Cheonggyecheon Stream and Cheonggye Plaza
With only an hour and a half of daylight left to spare, we wanted to squeeze in as many attractions as possible. We decided to visit an icon of Seoul - the Cheonggyecheon Stream. This famous stream is located in Central Seoul - but we wish we would have known that at the time! We had put in the name of the Stream in Google Maps and it lead us way, way off track - and not in the good 'off the beaten track' kind of way.
After catching a train and two buses, we were excited to see this stream that we had heard so much about and kept walking towards the direction of the stream. Much to our dismay, a further 30 minutes of walking in sweltering weather only lead us to a part of the stream that did not have the architecture and waterfall we had seen in pictures. Well you can't win them all. We had a laugh about it, and walked back to the Dongdaemun train station where we had begun.
What we were looking was actually Cheonggye Plaza - the starting point of the stream, where the waterfalls are.
Tip: Do not make the same mistake as us and simply type in the name of the stream in a GPS app.
The history of the stream is highly fascinating. The stream used to be a waterway hidden by an overpass and was largely overlooked by locals and tourists. After a massive revamp in 2005, the 10.9km stream was transformed into a tourist attraction. It regularly serves as a venue for festivals, light shows and entertainment events, and is best seen as night.
We eventually reached the falls and took a few quick snaps before moving on. The falls were nice, but a little overrated if we do say so ourselves!
Transport: Alight at Gwanghwamun Station (Seoul Subway Line 5), take Exit 5 or alight at City Hall Station (Seoul Subway Line 1, 2), take Exit 4.
Gwanghwamun Square and Gate
Although we had originally intended to visit the Gwanghwamun Square and Gate another day along with Gyeongbokgung Palace, these attractions were a short walking distance from the Cheonggyecheon Stream, so we decided to tick it off early ('cause why not?).
Epic Gwanghwamun Square is the perfect viewing point to see Gwanghwamun Gate and Bukhansan Mountain in the backdrop. Although the walk to the Gate is quite long, it is a scenic one. Along the way, you will pass statues of Admiral Yi Sun-Shin and Sejong the Great, who are important figures in Korean history.
Gwanghwamun Gate is the main gate of Gyeongbukgung Palace. Originally destroyed during the Japanese occupation of Korea, it was restored in 1968 and now serves as a popular photography spot for locals and tourists.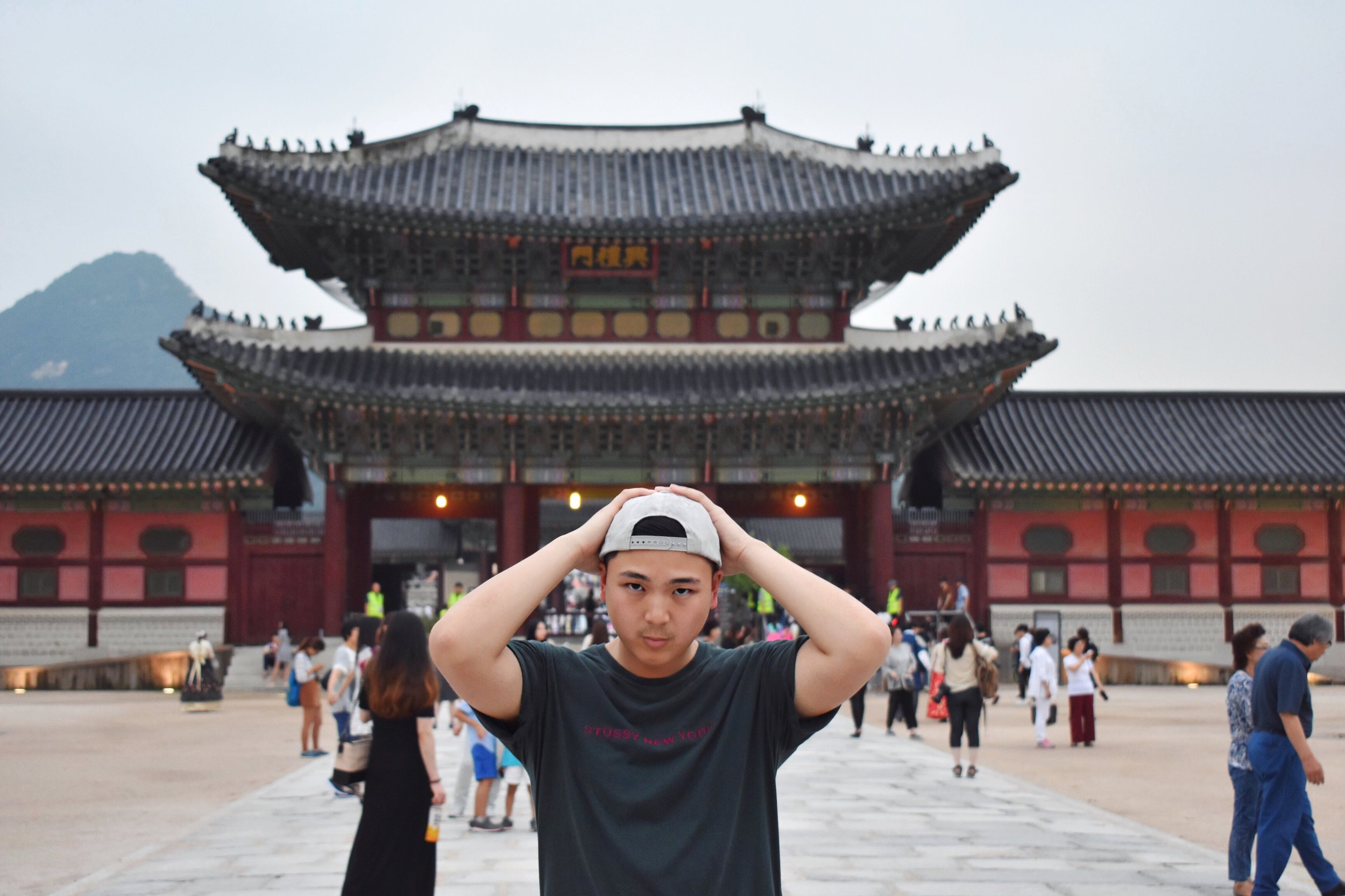 Transport: Alight at City Hall Station (Seoul Subway Line 1 & 2), take Exit 3; or
Alight Gyeongbokgung Station (Seoul Subway Line 3), take Exit 6 & 7; or
Alight at Gwanghwamun Station (Seoul Subway Line 5), take Exit 1, 2 & 8.
Insadong
Insadong wasn't originally on our itinerary for the day but again, its proximity to the attractions we had previously visited in the day meant we could tick it off the list early. Yay for unexpected surprises.
Unfortunately for us, we visited around 8pm, which is when stores generally start to close. It was still a picturesque and tranquil visit. Insadong is a popular area for art - there are around 100 galleries in the area, and is a must visit if you're an art-lover and are keen to see traditional Korean paintings and sculptures. Apart from its abundant art, Insadong is also an area known for its teahouses and traditional souvenirs.
Branching off the main Insadong street, traditional Korean stores in little alleys present good photo and opportunities. The infamous 'poop' cafe is also located within this area on the fourth floor of the Ssamziegil Mall.
We will write a little more about Insadong in a future blog post, as we visited it in the daytime as well on another day.
Following Insadong, we walked back to our hotel in Myeongdong, but not before passing more busy Seoul streets filled with lights.
Where to stay in Seoul
For more information on where to stay in Seoul, read our accommodation guide in our Day 1 Itinerary.
That marks the end of Day 2 for us. Our Day 3 is next up!
Have any questions or want to share some of your experiences?
Let us know below!